Your Air Duct Cleaning Experts
since 1971
Captain Clean is your local air duct cleaning expert! We offer air duct cleaning, sanitizing, and deodorizing services to both residential and commercial customers. We pride ourselves on high-quality professional service with friendliness and efficiency. We serve a 100-mile radius covering parts of Minnesota, North Dakota, and South Dakota. Included in our service area are the following cities:
Wahpeton, ND

Perham, MN

Valley City, ND

Gwinner, ND

Watertown, SD

Battle Lake, MN

Detroit Lakes, MN

Alexandria, MN

Fergus Falls, MN

Fargo, ND

Moorhead, MN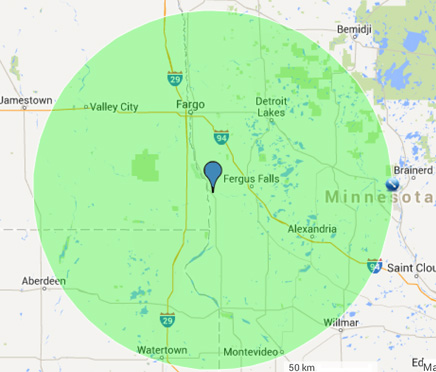 Safety is an important part of our training. Certificates for OSHA 10-Hour Training Course in General Industry Safety & Health are completed. Our safety record is impeccable.
We do not do fire restoration, clean carpets and furniture, or do janitorial work, because at Captain Clean, we do only one job and do it right.
Captain Clean is one of the few companies devoted solely to cleaning air ductwork and HVAC systems. Captain Clean is familiar with the concerns, circumstances and government regulations regarding work done in large and small projects. We bring to each jobsite experienced crews that have worked extensively with air duct systems cleaning to address problems related to indoor air quality and HVAC systems maintenance. Approximately 80% of the work that Captain Clean does is repeat business, real evidence that we know our work and what it takes to satisfy our clients. Highly regarded in the air duct cleaning field we follow the Duct Cleaners Network code of ethics as the basis for our methods. We have the knowledge, professional staff, skill, and equipment required to address any indoor air quality problem you are experiencing, or to maintain your systems in a manner that will prevent problems from occurring.
We've worked on mental health centers, State Historical Departments, retirement homes, laboratories, office buildings, factories, large casinos, hospitals, and numerous residential homes. Click to see some of our recent commercial and industrial clients.
It feels good to breathe clean air.

Dennis D. Tuel, Sr.
We are very pleased with the process and the end result. Friendliness and courtesy were excellent.

Merlen & Lavonne Paseke
There is a lot less dust on the furniture and hardwood floors!

Judy Mouritsen
Mike was very professional and down to earth! My house smells clean and you can see down the ducts now! Awesome!

Anna Drews
Great service; friendly and clean! Thanks a ton!

Kevin & Laura Pearson